Bin Rentals in vancouver and Lower Mainland
Coinciding with our full service junk removal service, our roll off disposal bin service is for our clients who love to D.I.Y. We provide roll off bin rentals for all sorts of projects from co-op spring cleanings, to roofing projects, to construction projects, basically any project where a container for garbage or recyclable goods is required.
All of our containers are designed with small and tight spaces that are commonly found in Vancouver. With our 2 sizes of trucks, we are able to service all types of locations!
With our innovative approach to recycling and disposal, we are proud to say that we are the only organization in British Columbia to colour coordinate our disposal bins with the sizes!
Our Current Inventory of Bin Sizes and Colours for Garbage:
Rental Length

5 Cubic Yard

Green

7 Cubic Yard

Dark Blue

12 Cubic Yard

Pink

16 Cubic Yard

Light Blue

20 Cubic Yard

Green

30 Cubic Yard

Purple

Dimensions

10'L x 7.5'W x 2'H

12'L x 7.5'W x 2'H

12'L x 7.5'W x 4'H

12'L x 7.5'W x 5'H

12'L x 7.5'W x 6'H

18'L x 7.5'W x 6'H

3-day

1 Week

Starting @ $200 + Disposal Fees

Starting @ $200 + Disposal Fees

Starting @ $200 + Disposal Fees

Starting @ $200 + Disposal Fees

Starting @ $200 + Disposal Fees

Starting @ $200 + Disposal Fees

1 Month

Please Call

Please Call

Please Call

Please Call

Please Call

Please Call

Max included weight

N/A

N/A

N/A

N/A

N/A

N/A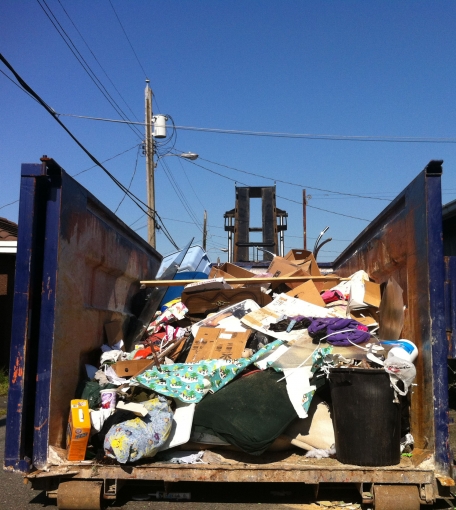 weight charges
Construction waste $155.00/1000kg (Current rate as of January 1 2020)
Household Waste - $167.00/1000kg (Current rate as of Janury 1 2020)
Clean Wood $115.00/1000kg
Drywall: due to new regulations please contact us
Clean Green waste $75.00/1000kg
Mattress Surcharge $35.00 each
Tire Surcharge $25.00 each
Aggregate Pickup
Aggregate Type

7 Cubic Yard

Dark Blue

10 Cubic Yard

Dark Blue

Sod/Soil/Rock

$200 + $35/Tonne

$220.00 + $35/Tonne

Brick

$200 + $35/Tonne

$220.00 + $35/Tonne

Clean Concrete

$300.00

with rebar + $100

$375.00

with Rebar + $100
How it works
Give us a call at 778-882-5865 and let us know about your project from there our estimator will help you choose the best size container for your project.

If our price is the most competitive, we can schedule a drop off and pick up date

You will receive a roll off bin of your choice on the date of your desire

Load roll off bin

Give us a call or we can pick up the roll of bin at the agreed upon pick up date
Accepted materials
Construction waste, Green waste, Asphalt roofing, tar and gravel roofing, cedar roofing, Drywall, Rocks, Sod, Soil, Concrete, Clean wood, Household junk, furniture, mattresses, appliances, Gyproc
Unaccepted Materials
Construction waste containing asbestos, Hazardous Chemicals, Flammable Chemicals, Dead animal bodies
Bin service areas
Bin Rental in Vancouver
Bin Rental in West Vancouver
Bin Rental in North Vancouver
Bin Rental in Richmond
Bin Rental in Burnaby
Bin Rental in Ladner
Bin Rentall in Tsawassen
Bin Rental in Surrey
Bin Rental in Port Moody
Bin Rental in Port Coquitlam
Bin Rental in Coquitlam