blitz junk removal - Frequently asked questions

Junk Removal Vancouver
Q: What materials do you take?
A: We accept everything and anything that you need to have disposed. The only items that we are unable to remove for you are materials containing asbestos, hazardous chemicals, toxic waste, and biological waste.
Q: How much notice is generally needed to schedule an appointment?
A: We generally try to schedule for same day service depending on the difficulty of the job and our day of schedule. If not, we can schedule you for next day service.
Q: I only have 1 item, is there a minimum charge
A: Yes, our minimum charge is $40.00+HST for any single item on a curbside location except mattresses.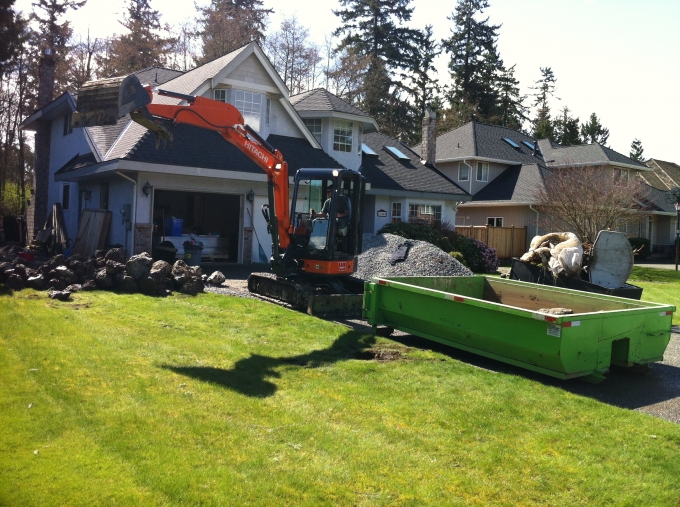 Q: Do we have to gather everything into 1 location
A: No, you do not have to have everything in one location, that is what makes our service the best because we do not charge extra for gathering the items you need to have removed from your property.
Q: Do you donate?
A: Yes, we try to donate as much of the items we pick up, however the decision comes from the charity on what to accept and what to deny.
Q: How large is your truck?
A: Our truck is 20 cubic yards. The capacity is equivalent to approximately 6-7 pickup trucks the size of F350's
Q: Are you insured?
A: Yes we are!
Q: What is a cubic yard?
A: A cubic yard is a form of volume measurement. 1 cubic yard is a 3'L x 3'W x 3'H cube
Q: What forms of payment do you accept?
A: We accept Visa, Mastercard, Cash, and Cheques
Bin Rentals Vancouver
Q: How high can I fill the bin?
A: Please only fill the bin to the top of the bin
Q:How long can I keep the bin?
A: We have standard pre-determined rental lengths of 1-day, 3-day, 1-week, and 1 month terms. If you would like to customize your rental length, we would be happy to accommodate your request.
Q: What if I need the bin longer than originally thought?
A: That is not a problem, just give us a call a minimum of 2 days in advance of the scheduled pick up and we will reschedule the pickup.
Q: Can I mix concrete/dirt/soil/rocks into my garbage bin?
A: Due to the weight of these materials, they cannot be mixed in as they will put the bins and our trucks overweight.